The International Society for Neurochemistry together with the Journal of Neurochemistry present our first Mini-Meet for 2022 on Circadian Rhythms!
Our Circadian Rhythms in the Brain Special Issue provides recently unraveled connections of chronobiology to metabolism, aging, and widespread diseases related to modern lifestyle factors (permanent food availability, obesity, stress, light pollution and more).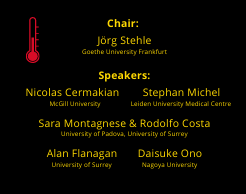 Contributing authors are leading scientists in the field and will be updating you on the latest research in this free online mini-symposium event - Make sure to book your spot here!