Service work
For small projects on a limited amount of samples, we can offer our services directly. Our support staff can advice you on sample preparation and image your samples.
Collaborations
For longer projects we can collaborate and advice you on which imaging technique you need and provide different modes of imaging.
Training and Use of Instruments
For projects that require extended imaging, we can provide training to users so they can use the electron microcsopes and image independently. After training on the microscope, the user gets access to the booking system and the microscope.
Contact
For more info on Electron Microscopy related collaborations and facility, visit de Koster lab website.
For questions contact: Roman Koning by e-mail or phone (+31) 71 526 9296.
If you are interested in our services, download and send us the intake form.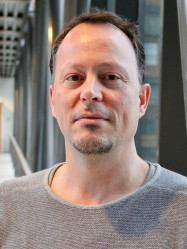 You can contact the head of the electron microscopy group, Bram Koster by e-mail or phone (+31) 71 526 9294.
For general inquiries, contact our secretarial office by e-mail or phone (+31) 71 526 9200.
Cell and Chemical Biology
Light and Electron Microscopy Facility
Leiden University Medical Center
Building 2, Room R90-08
Einthovenweg 20 Leiden
The Netherlands